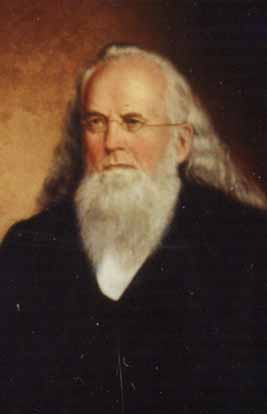 Breese, Sidney
---
Breese graduated from Union College in Schenectady, New York. He moved to Kaskaskia, Illinois, where he studied law in the office of Elias Kent Kane. Breese was admitted to the bar in 1820, and the following year, he served as postmaster of Kaskaskia. In 1822, Governor Shadrach Bond appointed him as state's attorney. In 1826, President John Quincy Adams appointed Breese as the U. S. district attorney for Illinois, a position he filled until President Andrew Jackson removed him. However, Breese identified himself as a Jacksonian Democrat. Breese compiled the first volume of the Illinois Reports in 1831. With the outbreak of the Black Hawk War, Breese enlisted as a private and became a lieutenant colonel of volunteers. After the war, Breese continued the practice of law, and in 1835, he was elected judge of the Second Judicial Circuit. In February of 1841, the Illinois General Assembly appointed Breese to the Illinois Supreme Court when it expanded the size of the court from four to nine members. The state legislature divided Illinois into nine judicial circuits, and each of the supreme court justices held court in one of the districts. Breese was responsible for the Second Judicial Circuit. He resigned from the bench after his election to the U.S. Senate in December 1842. In his term as a U.S. Senator, he supported federal land grants to the Illinois Central Railroad. Elected to the state legislature in 1850, Breese became Speaker of the State House of Representatives the following year. In 1857, Breese was again elected to the Illinois Supreme Court, and was reelected in 1861 and again in 1870. He served on the state's highest court until his death in 1878.
When Breese was elected to the Illinois Supreme Court in 1857, his two colleagues on the bench, Onias Skinner and John Dean Caton, soon discovered that all three justices had come from Oneida County, New York. Lincoln was said to have remarked in jest that "I could never understand before why this was a One-i-dea court." Lincoln appeared before Sidney Breese in the Illinois Supreme Court in sixty-five legal cases.
Carlyle Constitution (Carlyle, Illinois), 4 July 1878, 2; John J. Duff, A. Lincoln: Prairie Lawyer (New York: Bramhall House, 1960) 174; John A. Garraty and Mark C. Carnes, eds., American National Biography (New York: Oxford University Press, 1999), 3:472-73; Allen Johnson, ed., Dictionary of American Biography (New York: Charles Scribner's & Sons, 1964), 2:1:14-16; Usher F. Linder, Reminiscences of the Early Bench and Bar of Illinois (Chicago: The Chicago Legal News Company, 1879), 141-47; John Wesley McNulty, "Chief Justice Sydney Breese and the Illinois Supreme Court: A Study of Law and Politics in the Old West" (Ph.D. thesis, Harvard University, 1961); John Palmer, ed., The Bench and Bar of Illinois: Historical and Reminiscent (Chicago: Lewis Publishing Co., 1899), 1:33-34; United States Biographical Dictionary: Illinois Dictionary (Chicago: American Biographical Dictionary, 1876), 318-19. Illustration courtesy of the Abraham Lincoln Presidential Library, Springfield, IL.