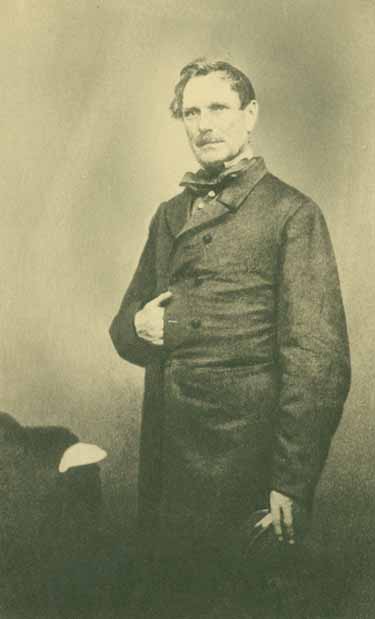 Shields, James
---
b. May 12, 1806, in Altmore, County Tyrone, Ireland; d. June 1, 1879, in Ottumwa, Iowa. In 1827, James Shields moved to the United States and, in 1828, settled in Kaskaskia, Illinois, where he studied law and taught Latin, French and Spanish. Shields fought in the Black Hawk War and was admitted to the Illinois bar in 1832. Voters elected Shields as a Democrat to the state legislature in 1836, and that same year, he became auditor for the State of Illinois. As auditor, Shields helped to restore the finances of the state after the Panic of 1837, but the Whigs were critical of his efforts. In response to anonymous charges made in the Sangamo Journal by Abraham Lincoln and Lincoln's fiancée Mary Todd, Shields challenged Lincoln to a duel in 1842. The two men traveled to an island in the Mississippi River that was part of Missouri (where dueling was not illegal), but negotiations and explanations averted an actual duel.
In 1843, Governor Thomas Ford appointed Shields to the Illinois Supreme Court. He held that position for two years but resigned to accept an appointment as the commissioner of the General Land Office in Washington, DC. With the outbreak of the Mexican War, Shields resigned as commissioner to become a brigadier general of Illinois volunteers. During the war, Shields was critically wounded, and after his brigade disbanded in 1848, he returned to Illinois to resume his law practice. In 1849, the legislature elected him as U. S. senator from Illinois. In 1855, Shields lost his bid for reelection to Lyman Trumbull, and he moved to the Minnesota Territory. After Minnesota statehood, Shields was elected as one of its U.S. senators. After his term expired, he moved to San Francisco, California, and then to Mexico. When Civil War broke out in the United States, Shields became a brigadier general and campaigned in the Shenandoah Valley. In 1863, he resigned his commission and returned to San Francisco, where he accepted an appointment as railroad commissioner. Three years later, Shields moved to Carrollton, Missouri, and reentered politics. In 1879, he was elected to fill out an unexpired term in the U.S. Senate and became the only person to have been a U.S. Senator from three different states.
John A. Garraty and Mark C. Carnes, eds., American National Biography (New York: Oxford University Press, 1999), 19:838-40; William H. Condon, Life of Major-General James Shields (Chicago: Blakely Printing, 1900); Allen Johnson, ed., Dictionary of American Biography (New York: Charles Scribner's & Sons, 1964), 9:1:106; Usher F. Linder, Reminiscences of the Early Bench and Bar of Illinois (Chicago: The Chicago Legal News Company, 1879), 65-67; Mark E. Neely Jr., The Abraham Lincoln Encyclopedia (New York: McGraw Hill, 1982), 277; John Palmer, ed., The Bench and Bar of Illinois: Historical and Reminiscent (Chicago: Lewis Publishing Co., 1899), 1:44, 405. Illustration courtesy of the Abraham Lincoln Presidential Library, Springfield, IL.